Residents, businesses and landlords with properties in Leicester's Clarendon Park area are being asked for their views on a potential revamp of the popular Queens Road shopping street.
Leicester City Council is considering a range of possible improvements as part of a citywide programme of investment to help local businesses recover from the effects of the pandemic and the disruption it caused.
At Queens Road, the city council wants to help improve the shopping environment by creating more space for outdoor café areas and wider, safer pavements for pedestrians. The ultimate goal, to improve footfall and revenue for local businesses, giving current and future residents a safer environment, more places to go and better amenities.
Initial ideas could see changes made to some side road junctions – including potentially closing the junctions at Montague Road and Cecilia Road to vehicles – to create more pedestrian space and cut the amount of traffic turning into Queens Road, helping to make the busy shopping street safer for pedestrians and cyclists.
Pavements could be widened at key points to make more space for outdoor café-style seating areas to support businesses, while retaining the on-street parking spaces for shoppers and visitors, including disabled people. Additional loading bays could be provided for businesses.
Improvements to make the route safer and more appealing to cyclists are also being considered, to complement the recent introduction of a docking station on Queens Road as part of the new Santander Cycles Leicester e-bike hire scheme.
Artist's impression of proposed Queens Road redevelopment: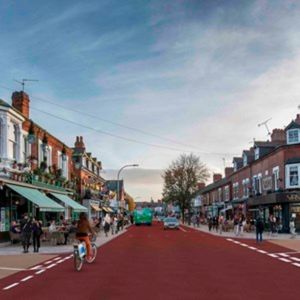 Traffic-calming measures, such as raised crossings, on Queens Road are also being considered to encourage motorists to cut their speed and improve road safety.
Assistant city mayor and Castle ward councillor Danny Myers said: "Queens Road is at the heart of the community in Clarendon Park. It's a space that is held dear. Events like our Summer and Christmas fairs attract thousands and it is a place that can be enjoyed throughout the day and evening, all year round.
"Creating a high-quality space that reflects this popularity is a great opportunity. The area would really benefit from improvements creating a more attractive and safer environment for visitors and to support local businesses. It'll be interesting to see what people think of these proposals and to hear other ideas they may have for Queens Road too."
We think this is a great opportunity for landlords with properties in the area to have a major say in giving the area more of a 'pull' to potential new tenants. An area that's safer and with better facilities will provide the potential for you to increase your rent and get a better return on investment. 
If you don't already have property in the Clarendon Park area, then now could be the time to put your support behind improvements, while also seeking out opportunities to add properties to your portfolio that are close by.
An online survey has been launched to help gather people's views. People can take part by visiting consultations.leicester.gov.uk/comms/queens-rd
Closing date for comments is Saturday 30 July 2022.