Often, the availability of a new technology and its development converge at a point when its really needed, where outside influences and market trends align.
That's exactly what's happened with 360 virtual tours which was always a really compelling addition to real estate marketing but now, in a Covid pandemic world, it has become an absolute necessity.
Now, an agent can make a relatively small invest of buying the specialised 360 digital camera, editing and hosting software and quickly start providing virtual tours to their properties, immediately taking the marketing to another level.
It's an incredibly quick procedure, too – especially for smaller properties. The camera and tripod are placed in the middle of the room, taking care to ensure it's not visible in mirrors and the camera can easily capture the room's exit points.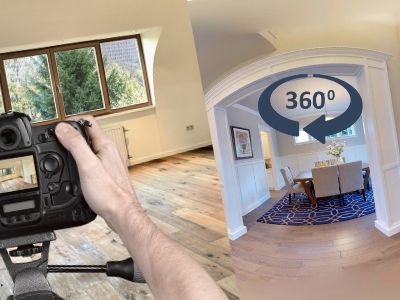 Then, the 360 lens of the camera will capture and splice together a full image of the entire room in a matter of seconds. The room can then be linked to other rooms, landings and hallways in the home to create a smooth, full representation of the home.
Once fully created and 'hot spots' added that allow you to navigate around the property, the url link can be placed in the property's advert on Rightmove and Zoopla, for example. Or, the link can be texted, sent via WhatsApp or emailed to the interested party directly.
They can view the properly at their leisure, on smart phone, laptop & PC or tablet.
Virtual tours is perfect if tenants who don't have the time to for a physical viewing – we all have busy lives, after all. It's also brilliant for letting people get a better look at a property, taking away any surprises or expectations someone might have before seeing it for real.
Reducing the property markets equivalent of tyre kickers.
But in these less than normal times, there's also an added benefit of using virtual tours technology. It makes things safer for both staff and members of the public – as it means direct face-to-face contact isn't required, reducing the chances of spreading Covid-19.
Lettings and property management firm Sky Blue Homes decided to make the investment in 360 virtual tours early last year and began to roll-out virtual tours of its property portfolio in August of the same year.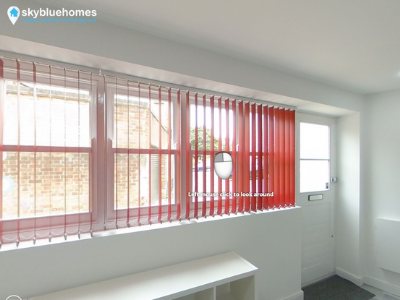 It's been a resounding success with hugely positive feedback from landlords and tenants. Sky Blue Homes now has the majority of its portfolio bolstered with virtual tour marketing.
Nital Patel, director of Sky Blue Homes says: "360 virtual tours is super-convenient and getting it up and running with the onset of the Covid-19 pandemic has proved to be a great decision. It has changed he way we operate and I think it has changed the way people look for their next place to live. They're now more inclined to seek out the virtual tour first (something we endeavour to push) before committing to a physical viewing. It saves time for all parties and is just more efficient."
To find out more about virtual tours as a landlord or tenant, call Sky Blue Homes on 0116 254 8107 or email This email address is being protected from spambots. You need JavaScript enabled to view it.