Modern living demands access to broadband internet, we organise essentially every facet of our lives online, from banking and shopping, to car insurance and dating – it's not too hyperbolic to say we'd all be lost without an internet connection.
The rise of the Coronavirus and the subsequent national lockdowns where the population has been stuck indoors requiring entertainment – with many working from home as well – has seen an even greater requirement for a stable, fast internet connection.
The demand for business AND pleasure at home
Not only that, but with the surge in demand for streaming services such as Netflix, Amazon Prime and Disney+, plus greater use of group chat and meeting platforms for business, speed, bandwidth  and reliability are paramount.
Whether you're a landlord who provides the internet to a property yourself, it's part of the package you have with your lettings agent it's important to know you're giving the best. Equally, if you're a tenant – professional, couple or student – and it's down to you, its important that you make the right choice to meet your needs.
December 2020 saw the latest figures from Offcom relating to official customer complaints involving all the major broadband providers. The figures cover the 3 months between April and June 2020, so the first few months of the initial lockdown.
Based on official complaints per 100,000 subscribers that were escalated to the regulator Offcom, EE came out on top for the second quarter running with an average of 3. Sky came a close second with an average of 4 complaints per 100,000 escalated to the Offcom, with the provider unable to resolve the customer's issues.
The results are good indicators of the commitment to customer service from both EE and Sky and should help potential customers make an informed choice when deciding on a prover.
Elsewhere in the Offcom results, Vodafone and TalkTalk fought it out at the bottom of the list with the highest escalated complaint numbers with an average of  21 and 22 average escalated complaints per 100,000 customers respectively.
Offcom complaints ranked from least to most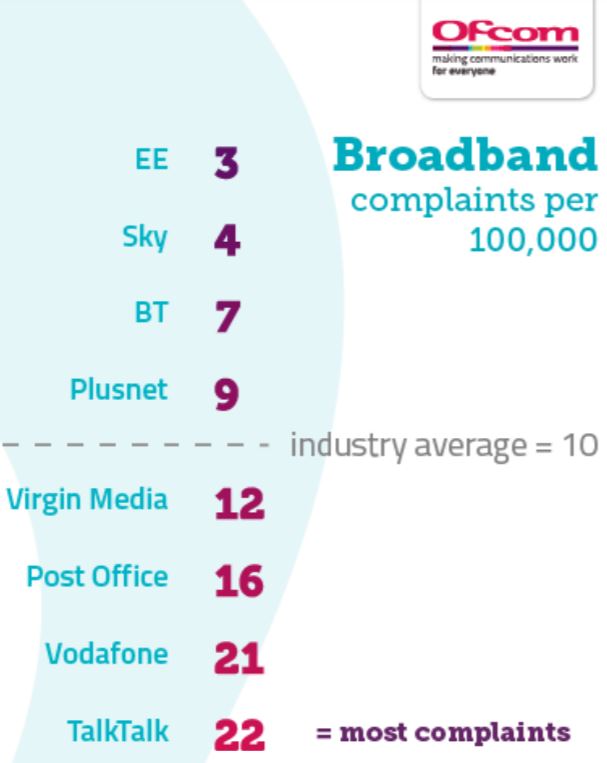 But that's just a part of what should formulate your decision when it comes to broadband. Consider price, speed and other features too.
Whether you're a landlord or tenant and sorting out a broadband service provider for the property is your responsibility, Have a look at this comparison site to help you make the right choice - broadband deal comparisons.