What passes as 'clean' can be open to interpretation for many, indeed people often don't have time to concentrate on all areas of their flat or house, ALL of the time, and understandably so.
Although Sky Blue Homes doesn't have a strict policy when it comes to a major deep clean at the end of a tenancy, we do ask for a property to be in the same state of cleanliness as when the tenant first moved in.
It's common sense really, and means keeping on top of everything with general cleaning during the tenancy, planning ahead and not leaving everything to the last minute, especially if for whatever areas have got to a particularly bad state.
If you don't do any of this, it's possible you may have to get professional cleaners to work on the property when you're moving out.


How much could an end-of-tenancy cleaning cost you?
Prices are based on the size of the home and the number of rooms, increasing the labour and time it takes to complete. It's also dependant on the amount of cleaners required. Overall, the time an end of tenancy clean takes can differ – anything from 1-2 hours, or as long as 5 hours.
To help you, we have put together a handy table of average end of tenancy cleaning prices you may find in the UK: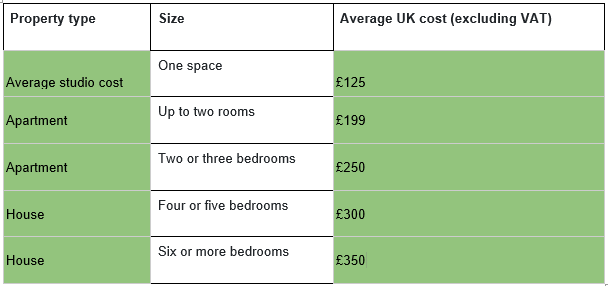 How to avoid professional end-of-tenancy cleaning and keeping all your deposit
Again, we must stress, if you keep on top of the cleaning during your tenancy, you're unlikely to need a professional end-of-tenancy clean. Ensure you have maintained your 'regular cleaning' responsibilities such as hoovering or steaming carpets, cleaning floors, wiping visible dirt and wiping down surfaces of crumbs and debris in the kitchen, and keeping the bathroom hygienic. 
The oven, hob, extractor hood and microwave oven are the areas that can catch people out. If it's been a while since these have been cleaned, it's likely it has turned into a bigger cleaning job. It can certainly be done by yourself, but depending on the dirt build-up it will require a lot of elbow grease. We recommend you could get a friend or fellow housemates to help.
If these areas do need a major clean and you're worried you might not have time to do, then that's when a professional clean might be worth it, just to avoid the very rare chance of having to pay out from your deposit.