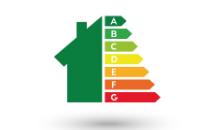 Latest research highlights that some 80 per cent of would-be tenants have energy efficiency high on their agenda when it comes to choosing a property to live in.
The survey, undertaken by Direct Line business insurance identifies that a quarter wouldn't rent it in the first place or would leave because of poor environmental standards.
The research also suggests that landlords' attitudes towards making their properties greener also influences tenants with six in 10 tenants believing that landlords don't really care about improving their property's energy efficiency rating.
However, when they were asked, landlords contradicted this.
Some 83 per cent of buy to let investors have made changes to their properties to bring them in line with energy efficient standards. While 73 per cent say they understand how important tenants now see energy efficiency.
Over half ensured their property had a good energy efficiency rating despite this not being required by regulation, contradicting renters' perceptions that they aren't taking the issue seriously enough. And nearly four in 10 say they did so because they have genuine concerns about the environment.
Other reasons included making their property more attractive to prospective or existing tenants, meeting regulatory standards, awareness of other landlords making upgrades, and a belief their property will be cheaper to run with the improvements.
The responses from landlords also seem to suggest that they are proactively improving the energy efficiency of properties. Almost half have implemented more sustainable appliances or light bulbs more sustainable, while draught proofing has been installed my more than four in 10.